What is TFL?
TFL (Thermally Fused Laminate) is made by fusing a décor paper directly to a substrate, effectively sealing the substrate. Ideal substrates are MDF or particleboard due to their consistency, strength, and being free of defects. The décor paper is generally the same as the paper used in the production of HPL (high pressure laminate) which makes for easy matching across materials including HPL, 3DL, edgebanding, mouldings, and doors. Along with a wide range of textures and styles, TFL is offered in many dimensions, grades, and thicknesses and meets green building standards including LEED.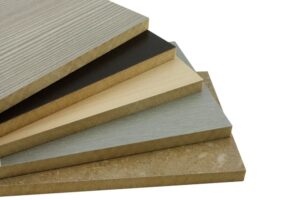 Durability and Maintenance
TFL panels offer excellent durability such as scratch and wear resistance and will last longer than traditional wood panels. As well, TFL panels won't need to be repaired like other materials (they don't peel or delaminate). TFL panels can handle frequent sanitizing and cleaning better than other materials, making it a good choice for applications beyond residential such as health care, hospitality, commercial, and retail. Although mild soap and water will do for regular cleanings, TFL will also stand up to most disinfectants.
TFL at Cavupro
Cavupro is proud to offer our clients performance, design flexibility, and cost advantages via a continuous TFL palette evolution of luxurious solid and neutral tones and rich, realistic woodgrains. Currently Cavupro offers hundreds of colours and 20 different textures.